What does it mean to honor your parents?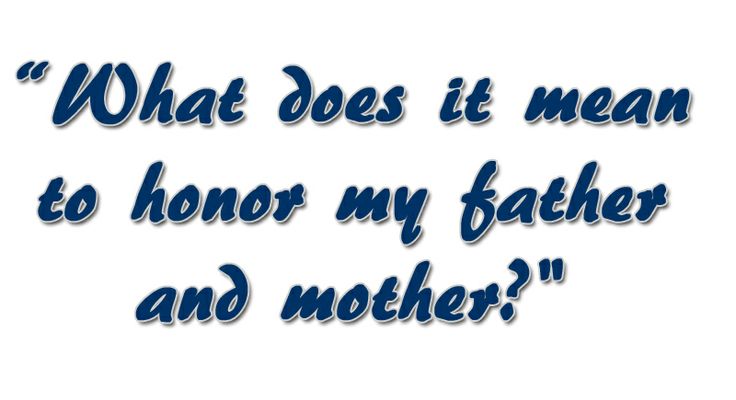 As a child my mother (who as far as I know is not a Christian) loved to shove the first part of this verse down my throat, whenever we had a disagreement. As I got older I started to question the words, What does it really mean to honor my parents?
Ideally, love should flow from parent to child. When this consistently takes place and children feel generally loved, it is easy for them to honor their parents. However, kids who feel unloved, abandoned, or abused may struggle to honor their parents. Understandably.
Honoring your parents DOES NOT
mean painting over the past, pretending it didn't happen;
mean placing yourself in a position for more abuse (it's important to make and keep wise boundaries);
instantly heal a strained relationship;
suggest taking responsibility for your parents or even for the parent-child relationship.
But honor DOES enhance a good relationship and breathe some life back into a dying one. When you choose to honor your parents, you pick out something specific and genuine that they did well for you, and you publicly thank and acknowledge them for that.
You may feel deeply hurt by your parents. You may feel abandoned, disappointed, frustrated, and even depressed, but you can still express love to them. Love is an attitude that takes action.
It's a little trickier to honor a parent who's missing or dead. Okay, a lot trickier. But it can still be done. If you have a parent who has died or who has been absent from your life, write a note—one to three sentences, or however much you can genuinely say—thanking your mom or dad for something specific. Even though your parent will never read your note, the process of writing it can serve as a helpful healing exercise for you.
"Dad, I remember the time when you _________. That meant so much to me."
"Mom, I wish I'd gotten more time with you. I miss you."
Honoring others is more than a simple expression of love and appreciation. In many ways, it can be medicine for your relationships and healing for your soul.
Written by Gary Chapman