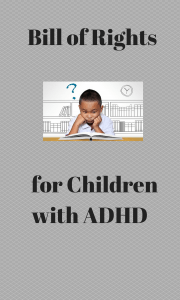 The ADHD Child's Bill of Rights is a sensitive and informed approach that is so right for kids with ADHD. See how it has inspired my research into natural remedies for ADHD below:
1. Help me to focus. Please teach me through my sense of touch. I need "hands-on" help and body movement.
Because the causes of ADHD are both biological and environmental, ADHD children need more than behavioral therapies to naturally focus their attention. When you find the unique biochemical balance their growing bodies need, you will find they can more easily find—and keep—their focus.
2. I need to know what comes next. Please give me a structured environment where there is a dependable routine. Give me an advance warning if there will be changes.
Regular sleep and exercise are some of the most important parts of a stable routine for children with ADHD and of natural ADHD treatment. T ...
Read more