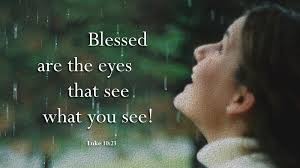 Bible Verses
Luke 10:23 And turning to the disciples, He said privately, Blessed are the eyes which see the things that you see. (24) For I tell you that many prophets and kings have wanted to perceive the things that you see, and have not perceived them, and to hear the things that you hear, and have not heard them.
Consider this:
The word about these things [in above verses] , all things [verse 22] , and the things in Luke 10 may remind us of Paul's word in 1 Corinthians 2:9: "But even as it is written, Things which eye has not seen and ear has not heard, and which have not come up in man's heart, how much God has prepared for those who love Him." The things here are the things in God's New Testament economy. The sphere of what the eye can see is narrow: the sphere of what the ear can hear is broader; and the sphere of what the heart can realize is without limitation. God in His wisdom has ordained and prepared for us many deep and hidden things, such as justification sanctification. and glorification. All these the human eye has never seen, the human ear has never heard, and the human heart has never realized.
I wish to emphasize the fact that the explanation of these things, all things, and the things is not found in the Gospel of Luke. For this explanation we must come to the Epistles of Paul. In these Epistles we have the New Testament economy of God and the mysteries in this economy. How marvelous and profound are these mysteries! What is revealed in the Epistles of Paul concerning God's New Testament economy involves the divine Trinity, God's eternal plan, Christ as the embodiment of God, the church as the Body of Christ, and God's intention to be expressed through His divine Trinity in the church.