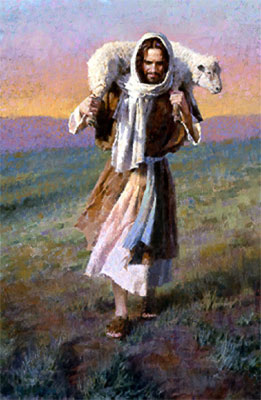 Bible Verses
Luke 15:4 Which man of you, who has a hundred sheep and has lost one of them, does not leave the ninety-nine in the wilderness and go after the one which is lost until he finds it? (5) And when he finds it, he lays it on his shoulders, rejoicing. (6) And when he comes into his house, he calls together his friends and his neighbors, saying to them, Rejoice with me, for I have found my sheep that was lost. (7) I tell you that in the same way there will be more joy in heaven over one sinner repenting than over ninety-nine righteous persons who have no need of repentance.
Consider this:
The shepherd going into the wilderness to seek the lost sheep indicates that the Son has come to the world to be with men (John 1:14). Here we see the Savior's saving strength and His saving love.
What is the wilderness into which the Son as the Shepherd came seeking the lost sheep? The wilderness signifies the world. In the sight of God the world is a wilderness, a wild, desolate place where it is easy to get lost. The Son came in the wilderness to seek us, the lost sheep.
Now we need to ask in what way the Son as the Shepherd came to seek us. His way to seek us out is to die for us. In John 10:11 the Lord Jesus says that He is the good Shepherd who gives His life for the sheep: "I am the good shepherd; the good shepherd lays down His life for the sheep." The work of the Shepherd is to die for us. If He did not die for us, He would not have a way to seek us out. His way of seeking us is to die for us.