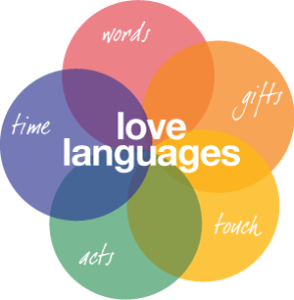 WORDS OF AFFIRMATION:
For anyone: Ask a good friend or loved one about times when your words impacted them greatly. This will help you understand how to encourage your loved one more effectively!
ACTS OF SERVICE:
For anyone: Don't make this complicated! Ask your loved one what act of service would be very significant for them to receive. Then work on daily or weekly implementing that into your schedule
RECEIVING GIFTS:
For anyone: Flowers or lunch delivered to a workplace in the middle of a crazy week might mean more to them than any card if their love language is receiving gifts.
QUALITY TIME:
For anyone: Sometimes it means so much to simply give your time. Tell your loved one that you've set aside a certain amount of time—or a whole day—for them and let them choose how you'll spend it together!
PHYSICAL TOUCH:
For a spouse: When your loved ones arrive home this week, meet them at the door with a big "welcome home" hug and a positive attitude. This communicates that you were eagerly anticipating them and value their presence!
If you're wondering what makes your loved ones feel special, send them the quiz below and ask them to share their results. Understanding what expressions make people feel the most loved will give you valuable insight into how to strengthen your relationships.
Not sure what your love languages are? Take this quiz http://www.5lovelanguages.com/...
Gary Chapman